If you've never had fried cabbage I seriously suggest you try it. I really like fried cabbage but I tend to forget about it. I've had a craving for it lately. I like to top this with hot sauce once it's on my plate. Of course you can season this however you see fit. I like to use olive to saute the cabbage.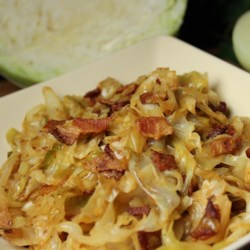 Fried Cabbage with Bacon, Onion, and Garlic
Recipe By:
Kathi Richards Smith
Ingredients
6 slices bacon, chopped
1 large onion, diced
2 cloves garlic, minced
1 large head cabbage, cored and sliced
1 tablespoon salt, or to taste
1 teaspoon ground black pepper
1/2 teaspoon onion powder
1/2 teaspoon garlic powder
1/8 teaspoon paprika
Directions
Place the bacon in a large stockpot and cook over medium-high heat until crispy, about 10 minutes. Add the onion and garlic; cook and stir until the onion caramelizes; about 10 minutes. Immediately stir in the cabbage and continue to cook and stir another 10 minutes. Season with salt, pepper, onion powder, garlic powder, and paprika. Reduce heat to low, cover, and simmer, stirring occasionally, about 30 minutes more.
ALL RIGHTS RESERVED © 2015 Allrecipes.com
Printed From Allrecipes.com 10/30/2015