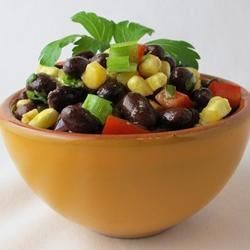 "Great with tortilla chips. Serve chilled."
Ingredients
2 (15 ounce) cans black beans, drained and rinsed
1 (15.25 ounce) can whole kernel corn, drained
1 red onion, diced
3/4 cup salsa, or as desired
1/2 cup olive oil
1/2 cup chopped fresh cilantro
3 cloves garlic, minced
2 tablespoons lemon juice
1 tablespoon red wine vinegar
1 1/2 teaspoons ground cumin
1 teaspoon salt
1/4 teaspoon ground black pepper
Directions
Mix black beans, corn, red onion, salsa, olive oil, cilantro, garlic, lemon juice, vinegar, cumin, salt, and black pepper in a large bowl. Cover and refrigerate at least 1 hour to 2 days. Serve chilled.
ALL RIGHTS RESERVED © 2015 Allrecipes.com
Printed From Allrecipes.com 12/12/2015