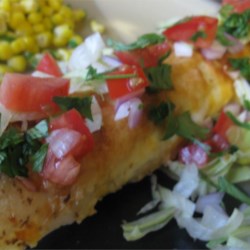 "This is a great recipe for a quick dinner. There aren't many ingredients and doesn't take a lot of time."
Ingredients
1 (8 ounce) package cream cheese

(Dairy Free Cream Cheese)

1 cup salsa

2 cups chopped cooked chicken breast meat

(I prefer chicken tenderloins)
1 (15.5 ounce) can pinto beans, drained

(Your favorite bean)

6 (6 inch) flour tortillas

(Gluten free wraps)

2 cups shredded Colby-Jack cheese

(Dairy/lactose free shredded cheese)
Directions
Preheat the oven to 350 degrees F (175 degrees C). Lightly grease a 9x13 inch baking dish.
In a small saucepan over medium heat, combine the cream cheese and salsa. Cook, stirring until melted and well blended. Stir in chicken and pinto beans. Fill tortillas with the mixture, roll and place into the prepared baking dish. Spread cheese over the top. Cover with aluminum foil.
Bake for 30 minutes, or until heated through. Garnish with your favorite toppings such as lettuce and tomatoes, or sour cream.
ALL RIGHTS RESERVED © 2016 Allrecipes.com
Printed From Allrecipes.com 2/27/2016