I'm trying something new. I mentioned before I'm a baby blogger, never intended to do the blogging thing "for real" but after my trip to the GFAF Expo, I'm reconsidering that decision. The first step, I wanted to change the theme/layout of the blog. I loved my previous layout, it was really cute but something about it was bugging me. I'm going to test drive this and see how I feel or see if the interaction with the page changes.
I'm going to spend some time researching "how to have a successful blog". I still intend to be "just me", honest, and funny (to me anyway - lol). I have some major reviews coming up due to the Expo trip but other than that the converting of the recipes remain the same. I was thinking about adding some different content - that's still on the back burner for the time being. I will come back to that...
Back to my original post -
I figured out the problem! After all of these years in pain and suffering, I found out that the major contributor to that anguish is/was my bed!!! So...
We know that The Lil Chef and I went to Arlington Hts and Schaumburg IL for the weekend. I was terrified to attempt to attend the Expo mainly because of my health but when I got there I was relatively "fine". Prior to the trip, still at home on Friday the 21st, my hip had gone out, I brought my cane (didn't even touch it, never needed it!), and I was trying to avoid a headache /migraine (my usual). 3 1/2 days in a hotel and my fatigue and pain were reduced. I came home, everything was everything until this morning and now I'm in a ton of pain, feeling like death again! The only common denominator is the bed! Yes, everyone feels better when they get away from home and take a vacation (mini or not). The away from home part helped, yes, but I suffer from insomnia and I had no problem falling asleep, I still had some issues staying asleep (but that's a different issue). I actually felt like a normal person when I woke up, I didn't need to take a nap in the middle of the day! (weird for me)
I was going to postpone buying a new bed because I found a way to temporarily fix the bed I have. NO!!! a new bed/mattress is back at the top of the list!
*Reminder! My posts are NOT sponsored*
I have been stalking the "bed in a box" at Walmart forever and it's been sitting in my shopping cart forever as well!
( This is the actual picture from Walmart.com )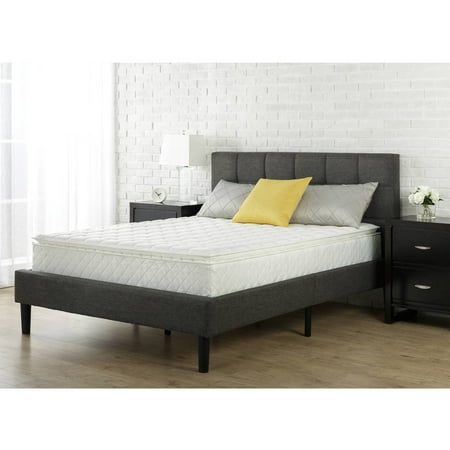 The mattress comes in a box like this (I opted not to choose this brand, it costs too much! Money is one thing we do not have!)
Getting out and being in a different place, air and being around other people makes me want to make a few changes. That may not sound like much to other people but change is not so easy for me, depending on the situation. Being an INFJ is not so easy!
I'm going to wrap this rambling up, I'm a little hungry. I was going to make me a smoothie with the Bob's Red Mill Vanilla Protein Powder sample I received at the Expo but I changed my mind I think I will have a sandwich with the Schar multi-grain bread sample I received at the expo. I'm using one of the throat drops from Redd Remedies that I received also at the Expo. My throat is doing something weird so I'm trying it and so far so good! It's clearing up some congestion I didn't know I had! lol
Alright, eat-eat time! TTYL!